Hi, Everyone!
The next several months, I'm going to be working on the Katon University series at an accelerated pace. I plan to have all of the books written by the time the Indie Author Hub writers conference takes place June 19-20. (You should come, if you want to be a writer, are a writer, and want to meet other writers.
Info here
. I'm presenting a couple of times. :-))
Anyway. After LTUE (another writers conference) this past February, I sat down and figured out that if I write 2,000 words a day, six days a week, never skipping - even after I finish each book - I'll have finished the entire series by June. This might seem like a lofty goal, but I've been keeping up with it since LTUE, which happened a month ago, and it's been very, very doable. Even with a toddler and all my other duties as a wife and mom.
Why am I doing this? Because after the IAH writers conference, I'm taking a break from the writing world (perhaps not writing itself, but everything else for sure) for a while.
Again, why?
Maybe this shirt I bought my husband will explain it: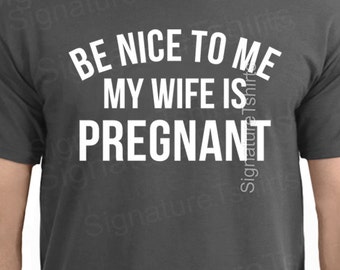 :-) We had the first doctor appointment and ultrasound yesterday and got to see the baby's heartbeat. So very exciting!
Here's how I told my husband (pardon my messy penmanship - I had to hurry to write it before he got home from work. :-)):
And that's why I'm taking a break for a while. :-) My pregnancies are pretty difficult - this one has been no different - and with writing and being a mommy, I'm already ready for that break. :-)
My other big announcement is this:
Perceive, Katon University Book Two
is finished! I'm so very excited. :-) I'll be looking for beta readers pretty soon here, and will be going through my newsletter email list exclusively to find them. If you aren't already a member,
sign up here
and I'll send you the eBook for
Discern, Katon University Book One
for free.
Anyway. We're pretty excited. And I'm ready to sleep for thirty hours a day. :-)